Which market is more worried about the coronavirus?
The spreading coronavirus and its consequences have brought new uncertainty to a global economy that was already showing some signs of improving momentum. In this environment, the US dollar will remain supported and bond yields will remain low.
Main market and central bank views in a nutshell
Fed rate cut likely as soon as June (71% chance)
The ECB will remain on hold for now
Bond yields will stay low at least until the summer
EUR/USD continues to face downward pressure
2020 mostly started on a positive footing, as it seemed that the worst sources of uncertainty in 2019 – the trade war and Brexit – were easing at least temporarily. It did not take long for a new source of uncertainty to appear: the Chinese virus.
While it is impossible to know the full impact of the spreading virus at this point, our baseline continues to assume the economic damage will end up being rather short-lived and will be followed by a rebound.
This is largely the view taken by the equity markets, which have largely shrugged off the virus scare. The bond market has taken the opposite view: long bond yields have remained close to the levels where they fell to in January. One can naturally also justify the differing market reactions between the equity and bond markets by increased central bank easing expectations, which have supported both bond and equity prices.
The equity market quickly reversed the corona induced moves, the bond market did not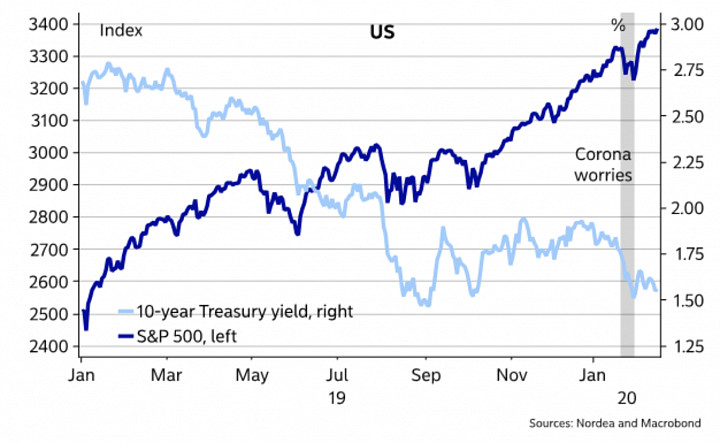 At the very least, visibility about the future has increased again if the worst of the virus is behind us (February 4 peak?). The virus effect will distort economic data in the near future, which will make estimating the course for the economy beyond the virus scare increasingly difficult. In this environment, the US dollar will remain supported and bond yields will stay low.
Manufacturing confidence was already rebounding ahead of the virus scare