Gold: The asset of the coming decade?
Lael Brainard held a speech last Friday, a speech potentially quite gold-positive as well as dollar-negative, should the Fed be forced to implement significantly more easing - for instance due to negative effects from the recently re-escalation of the virus situation after a likely monetary policy review this summer.
The short version is as follows: given a distinct lack of room for conventional stimulus (i.e. rates already low), the Fed ought to jump onto the easing accelerator via forward guidance, bond purchases and yield-curve control (YCC) a la the BoJ.
She furthermore argues the case for letting inflation overshoot to compensate for previous undershoots (opportunistic reflation).
Meanwhile macroprudential tools should be used to limit a surge in eg. household debt from the mega-loose monetary policy (an alternative reading would be that households must be prevented from protecting themselves from the effects of the policy).
What if the Fed eventually pegs the 10y rate at 25bps? Good for gold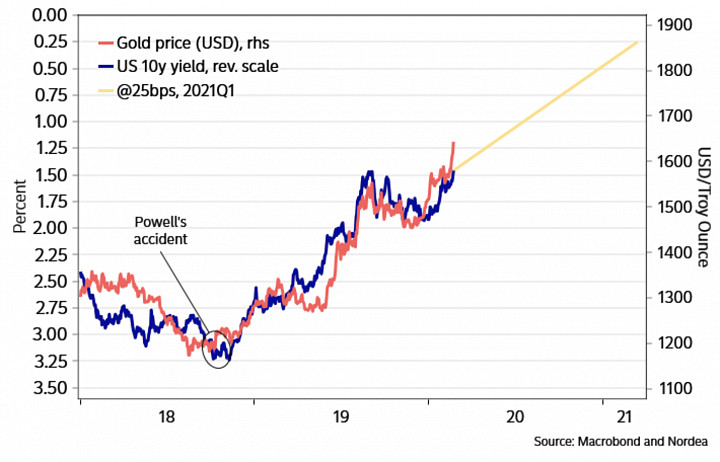 What could this mean for the market? It would mean that, should push come to shove,
i) we would face a much tighter transatlantic spread than in a very long time,
ii) this ought to be VERY good news for e.g. gold prices, and
iii) quite damaging for the dollar and
iv) very good news for populist movements since wealth inequality will continue to surge.
We are not there yet though, but 2020H2 - after the Fed's review - might still become the time of a negative game-changer for the dollar. Right now, it just remains so darn costly to sell… (We think this explains why the dollar isn't weaker already, despite a tighter transatlantic spread).
Maybe the Gold price is the perfect signal that markets do fear zero rates and YCC in the USD curve?
We continue to be bullish on Gold, as we wouldn't bet that we have reached our final destination on central bank creativity.
This is bad news for the SNB, since it will likely continuously push the CHF stronger as well. Could they decide on a 25-bps cut in March?
Gold is on the rise in EUR, in USDs, in you name it