When the dollar moves, things break. And when things break, the dollar moves.
The US Treasury could force the Fed into buying even more assets, which, if the size of the Fed's balance sheet is positive for equities, could further unpin equities into the 2020 presidential election.
A stronger dollar implies less global M2 liquidity – at least in dollar terms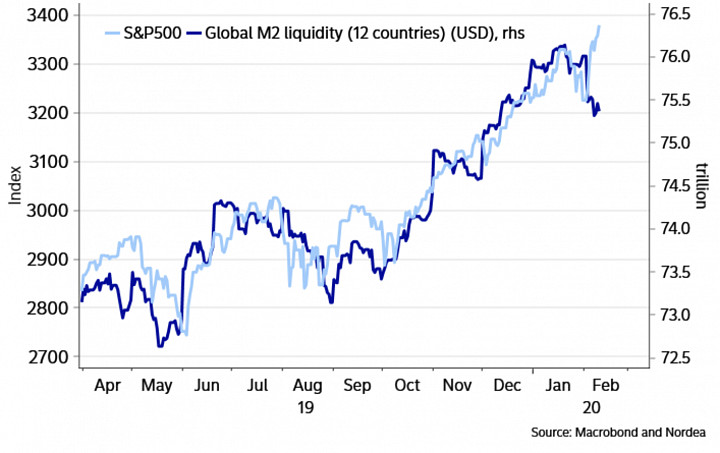 However, one has to pay attention to the dollar. A strong USD tends, counter-intuitively, to weaken growth in the rest of the world.
For instance, corporates with lots of USD loans see their balance sheets worsen when the USD gains, which then impacts business investments negatively. The recent upside in the USD implies that global M2 liquidity (in USD terms) has dropped to the lowest since December.
In real, trade-weighted terms, the USD is only 1.6% weaker than at its most recent peak in January 2017. Historically, it's not uncommon to see crises emerge when the USD starts to turn higher.
Though one should note that the USD also rises because of crises emerging. The dollar trends are nonetheless worth watching, no matter what asset class you are focusing on. For now we suspect we need more dollar strength to materialize for the USD to significantly dent risk appetite.
When the dollar moves, things break. And when things break, the dollar moves.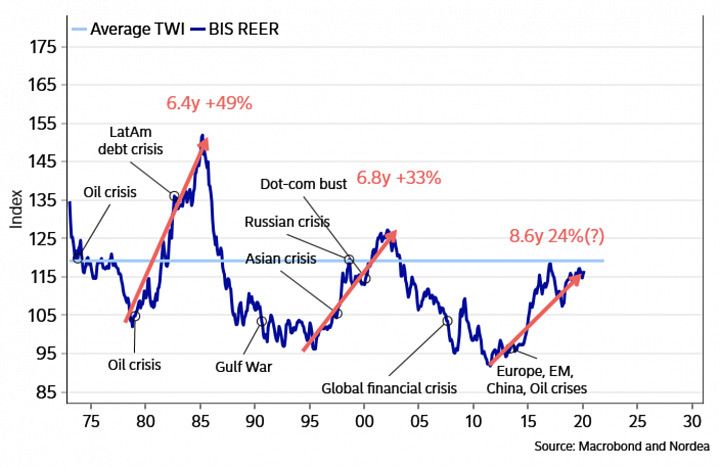 While the virus is creating downside risks to the global economy, US Treasury Secretary Mnuchin has stated that entire chapters of the phase 2 deal with China has been "dealt with" – good – or offsetting – news for risk sentiment.
In the eyes of Fed Chair Powell, relief on the trade front will be offsetting some or most of the economic damage done by the coronavirus – perhaps even all of it? It's simply too early to tell. In his Humphrey Hawkins testimony Fed Chair Powell furthermore said the Fed will use QE "aggressively" to fight the next recession.
Elsewhere, ECB President Lagarde continues to go all in on the idea that the ECB can fight climate change. In her remarks to the European parliament, she said "climate" 9 times and "green" 1 time, "price" 4 times (we're not counting house prices) and "inflation" only once.
Her focus is clear. We speculated already last summer that "climate QE" might be coming, and if not that, how about some green TLTROs?
We in the strategy group continue to lean reflationary (i.e. higher long-dated rates because of a risk-on tone in the near term).